Thailand Media Landscape 2021-2022
Thai media continued to struggle amidst the COVID-19 pandemic in 2021. The pandemic ushered in the New Normal and changes in media consumption behavior, which has become more diverse. These are some of the facets that pose a tough challenge for Thailand's media industry.
In the face of the widespread COVID-19 pandemic in 2021, the Thai media industry made the necessary work adjustments and were able to effectively cope with the situation, which can be partly attributed to the measures already in place from last year's outbreak. They had to observe social distancing while working, and that is why this year we see Thai journalists started to make hybrid working arrangements that allow them to work from anywhere and only go to the office when necessary. Technologies are used to support their work and virtual collaborations, including the use of video conference software that allows them to live stream their programs or conduct interviews remotely.
In-person seminars and events were not possible since mass gatherings were prohibited. As a result, there was a huge increase in virtual events held online to enable everyone to attend regardless of their location. Some of the major events included the Annual Red Cross fair, THAIFEX and Thailand MICE Virtual Expo.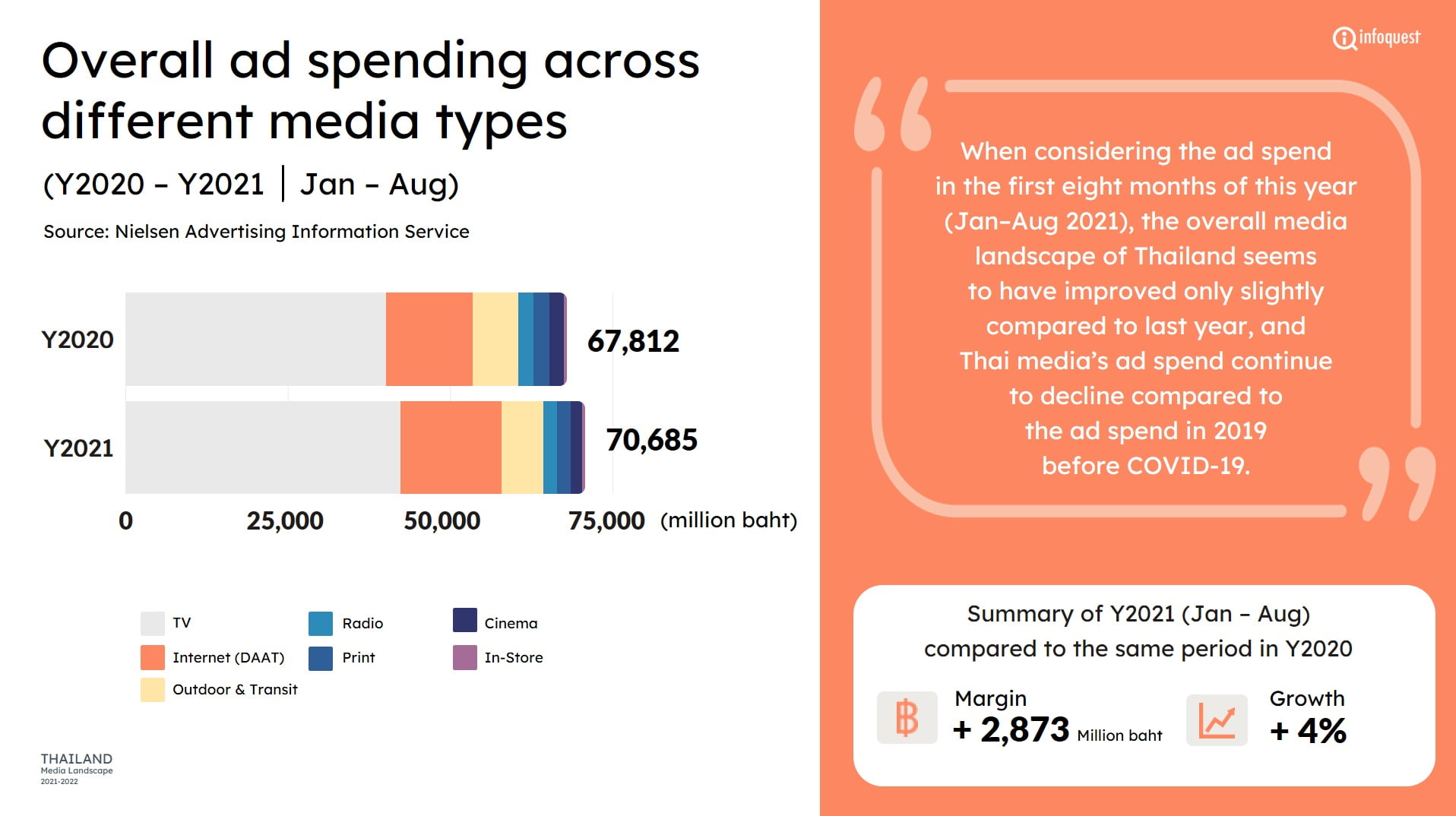 TV Media Overall, despite not seeing much significant growth, TV media has continued to grab people's attention. Taking into account the volume of TV advertising spending, the market value of TV media remains strong. In Thailand, TV advertising spending continues to outpace ad spending in other media formats.   
Internet Media or Online Media continued to be the media format with the second-highest advertising spending after TV media. This year, online media continued to see growth, and even though ad spend on online media has not returned to the pre-COVID-19 level, the role of online and social media is gaining more significance day after day in Thai society.
Radio and Print Media saw a drop in advertising spending, which has been on a downward trend for this media format since before the COVID-19 pandemic. This could be an indication that the era of traditional print and radio is coming to an end.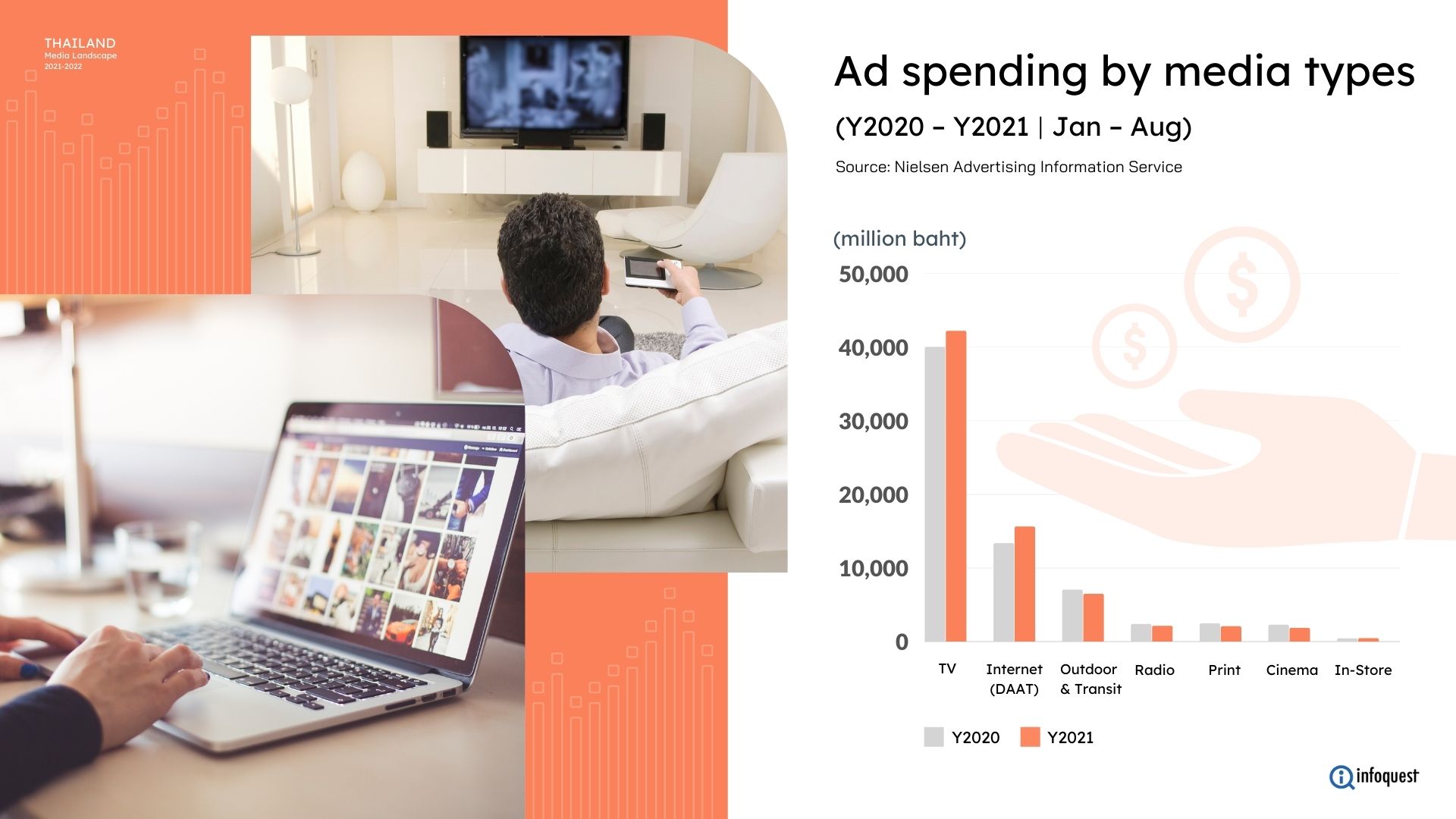 Media Highlights of the Year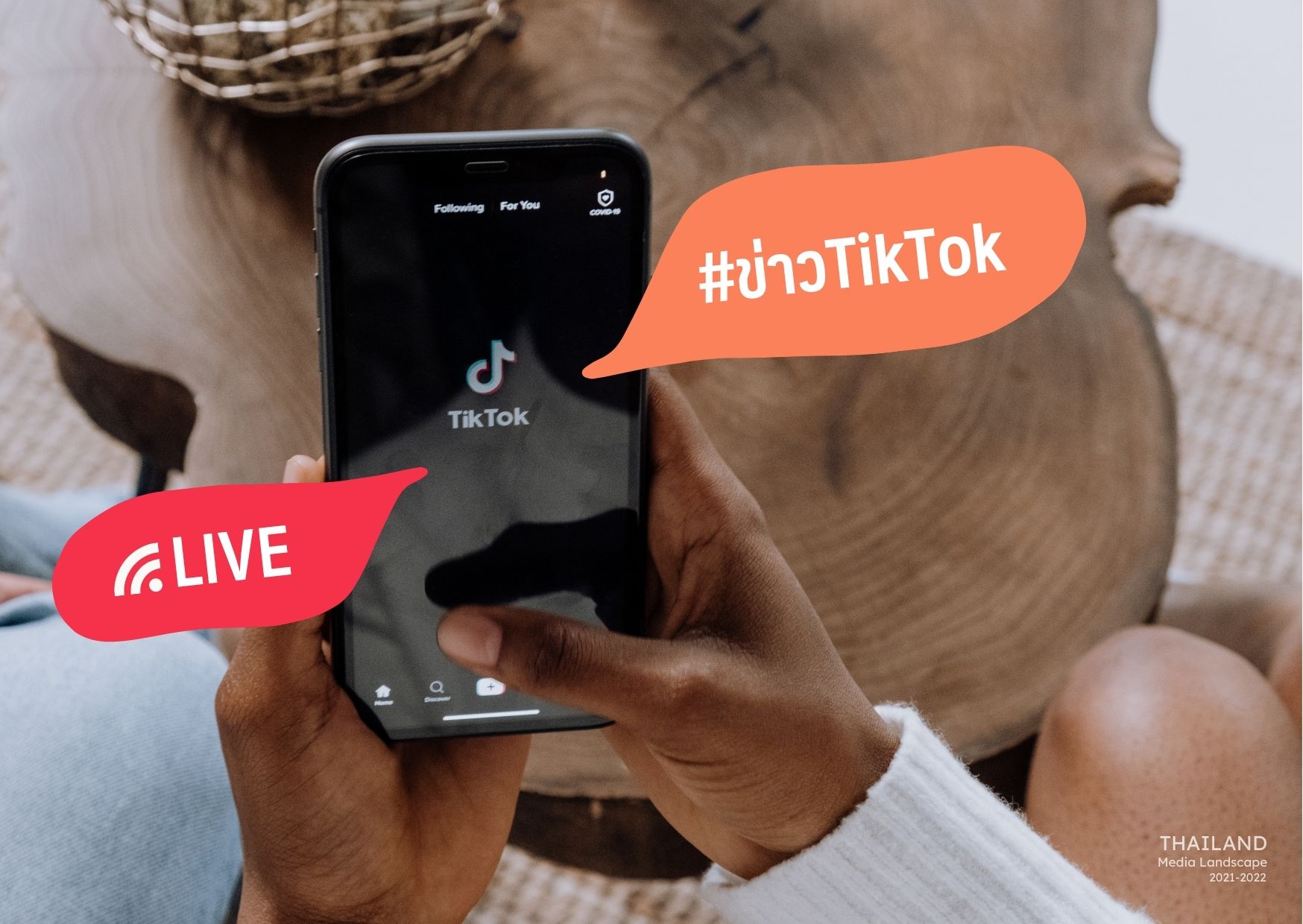 TikTok is a social media platform that focuses on short-form videos. This year, its popularity and growth are continuing on an upward trend. As of June 2021, TikTok has a user base of more than 240 million users in Southeast Asia, up 85% year-on-year.  The number of active users in this region accounts for a quarter of its global users. Due to its surging growth, it is impossible for the Thai media to overlook TikTok. This year, more media outlets, not just those in TV, have become media partners with TikTok.
#ข่าวTikTok (Translated as #TikTokNews) became the second most trending hashtag on TikTok in May 2021 with 15.5 billion views. This figure jumped to 28.7 billion (as of November 3). #ข่าวTikTok is like a news source that includes not only news from agencies but also journalists and experts who present major news stories in a succinct and easy-to-understand manner. This number of views under this hashtag shows a strong demand for news content, not just entertainment content among TikTok's user base.
TikTok Live added new features after the platform launched its live streaming feature earlier last year. Since the feature was well received by users and content creators, live content on TikTok saw a significant uptick in Thailand. Consequently, TikTok has developed more features for TikTok Live such as LIVE Event, Go LIVE Together and LIVE Q&A.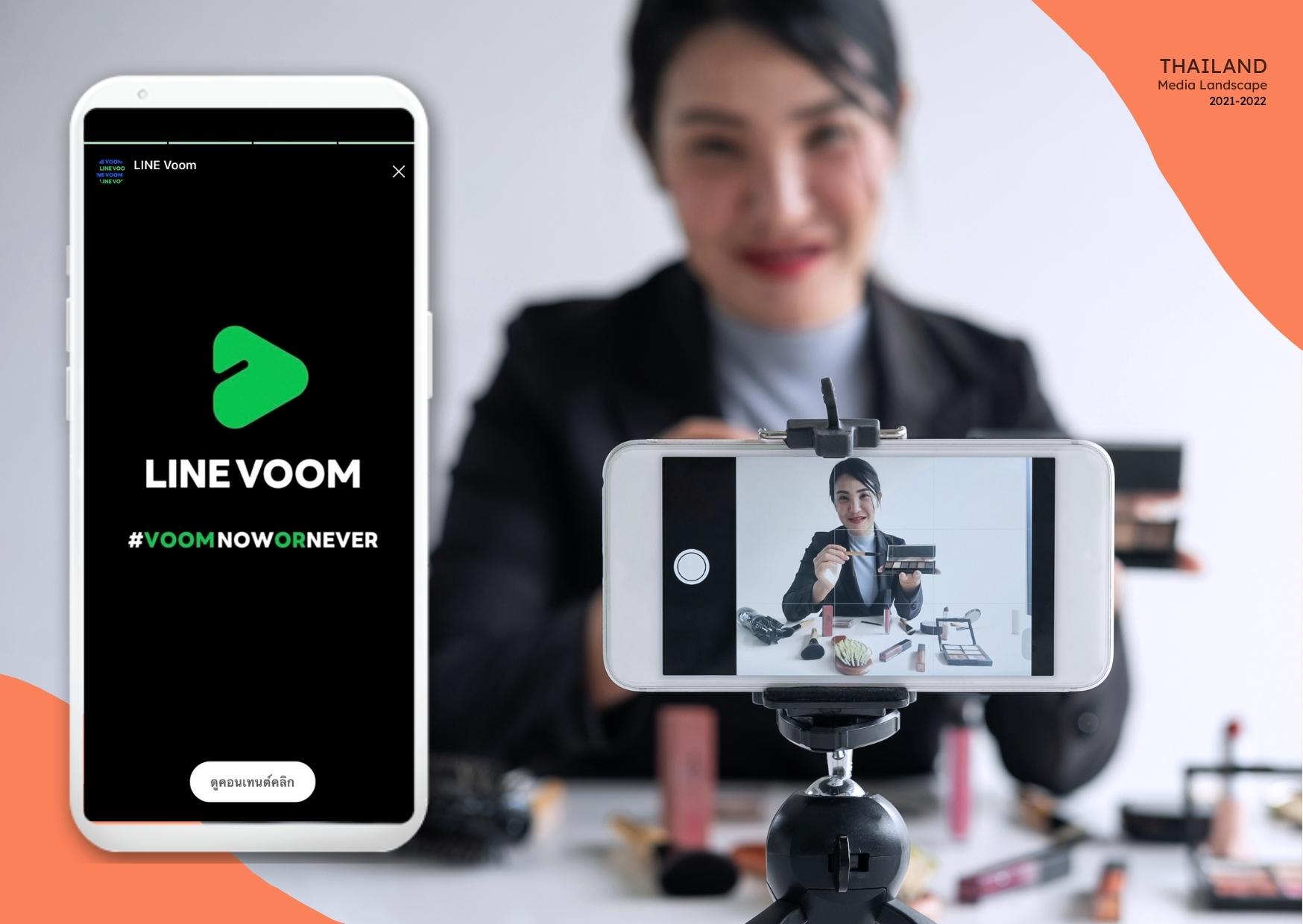 A communication platform used widely by many in Thailand, it offers the LINE TODAY service that aggregates news and articles from Thailand's leading media outlets, including news agencies, content creators and influencers. Currently, it has a reader base of more than 38 million people per month. LINE Thailand reported that overall content consumption on LINE TODAY grew 50% this year compared to the previous year.
In October 2021, LINE announced that it is expanding its user base to cover the new generation. It plans to add short-form video content (LINE VOOM) and change the logo to take on a refreshed image tailored to the target audience, the new-gen people.
In November 2021, it launched the LINE TODAY Showcase project to provide an opportunity for writers to submit their work on the topic of "Eat and Travel" for the staff to choose. Selected writings will be published on LINE TODAY. The first topic runs from Nov 2021 to January 2022. After the first topic's period ends, LINE TODAY Showcase will set a different content theme from time to time to allow more users to participate in the creation of new content.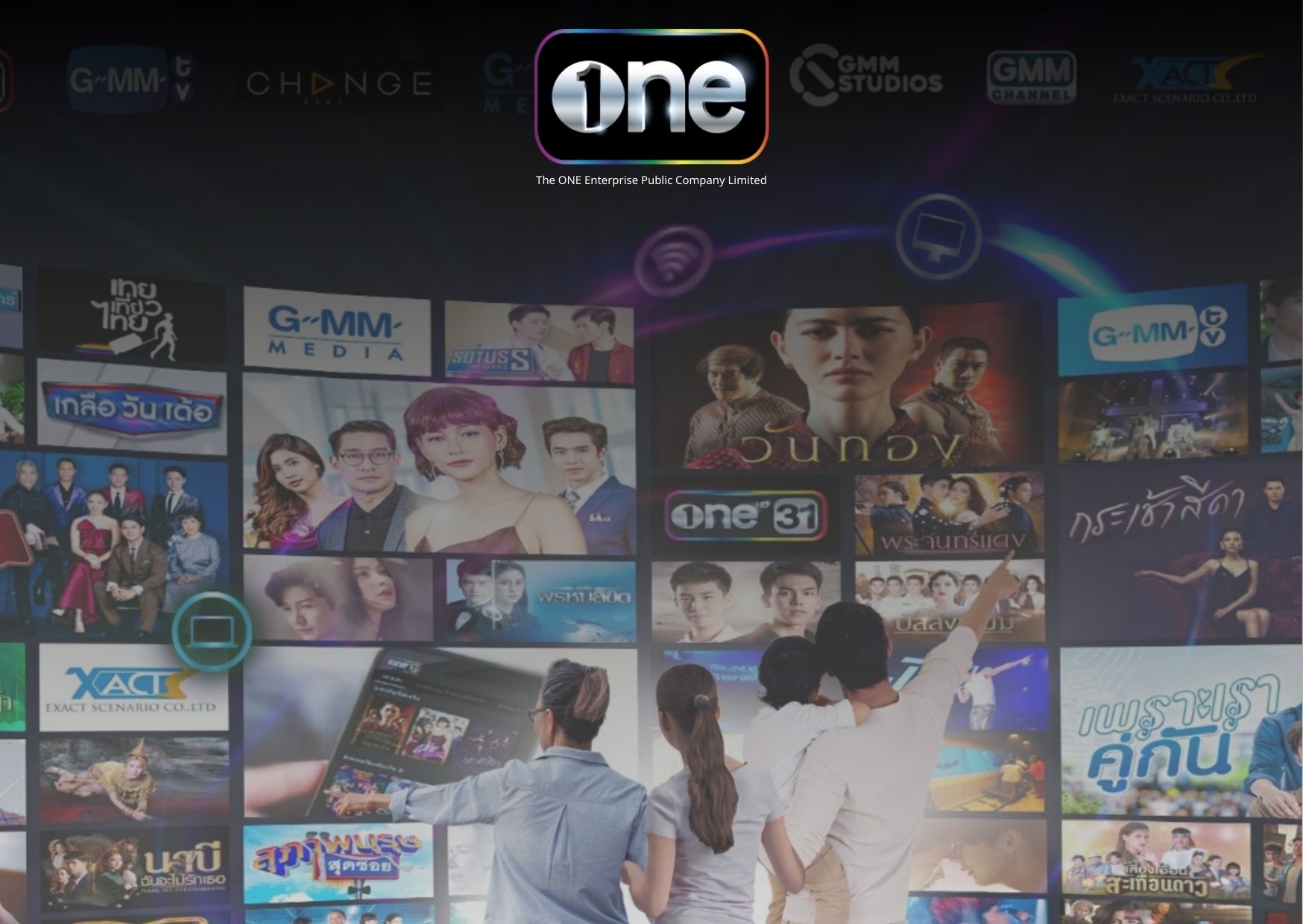 An interesting case study, the newcomer TV media entered the digital TV industry 7 years ago and managed to adapt through the Digital Disruption trend in the digital TV industry. It was able to step up and become one of the digital TV channels with the top ratings in Thailand.
The key to The ONE's success lies in its content. By positioning itself as a content creator, The ONE does not limit itself to TV as the main channel. It is a content creator that responds to consumer viewing behavior in all channels, such as OTT, YouTube, social media, and others. The ownership of ONE31 TV channel enables The ONE to increase its marketing opportunity for distributing content to a wider range of target groups.
Outlook: The trend of integration in 2022
The year 2022 should be the year that Thailand truly enters the "Next Normal" after the COVID-19 outbreak situation improves, with the number of daily infection cases declining constantly in late 2021, and more people are vaccinated.
The role of Internet or online media in Thailand's media landscape will likely increase further after the COVID-19 outbreak as most Thais now spend more than 10 hours online each day. Marketers and advertisers view that no single type of mass media will be able to reach people in every segment and every age group anymore because media-consuming behavior of Thais has become more diverse. Some people rely on Facebook for news and information, while others rely on YouTube or Twitter, and each person may use different platforms for different purposes.
Therefore, multiple communication formats and methods must be used in order to reach a target group efficiently. 
Media companies need to use multiple distribution channels in order to reach their target audiences which are spread across various social platforms with different characteristics.
This is not an easy task for media people or content creators. Before producing a piece of work, they have to identify the target group that they want to communicate with and the platforms that the target group is on, so that they can choose the presentation method that works with that target group. All this remains a challenge for media companies, content creators and brands.
Even though the COVID-19 outbreak situation has somewhat improved, Thais still need to keep a distance from each other as an outbreak-prevention measure. Media people or content creators will likely continue to use a hybrid working approach because this is the approach that provides flexibility and suits the current situation, in which no one knows when the outbreak will be over. Other trends are that of technology being used to increase efficiency and more online events being held that require people to buy a ticket to attend.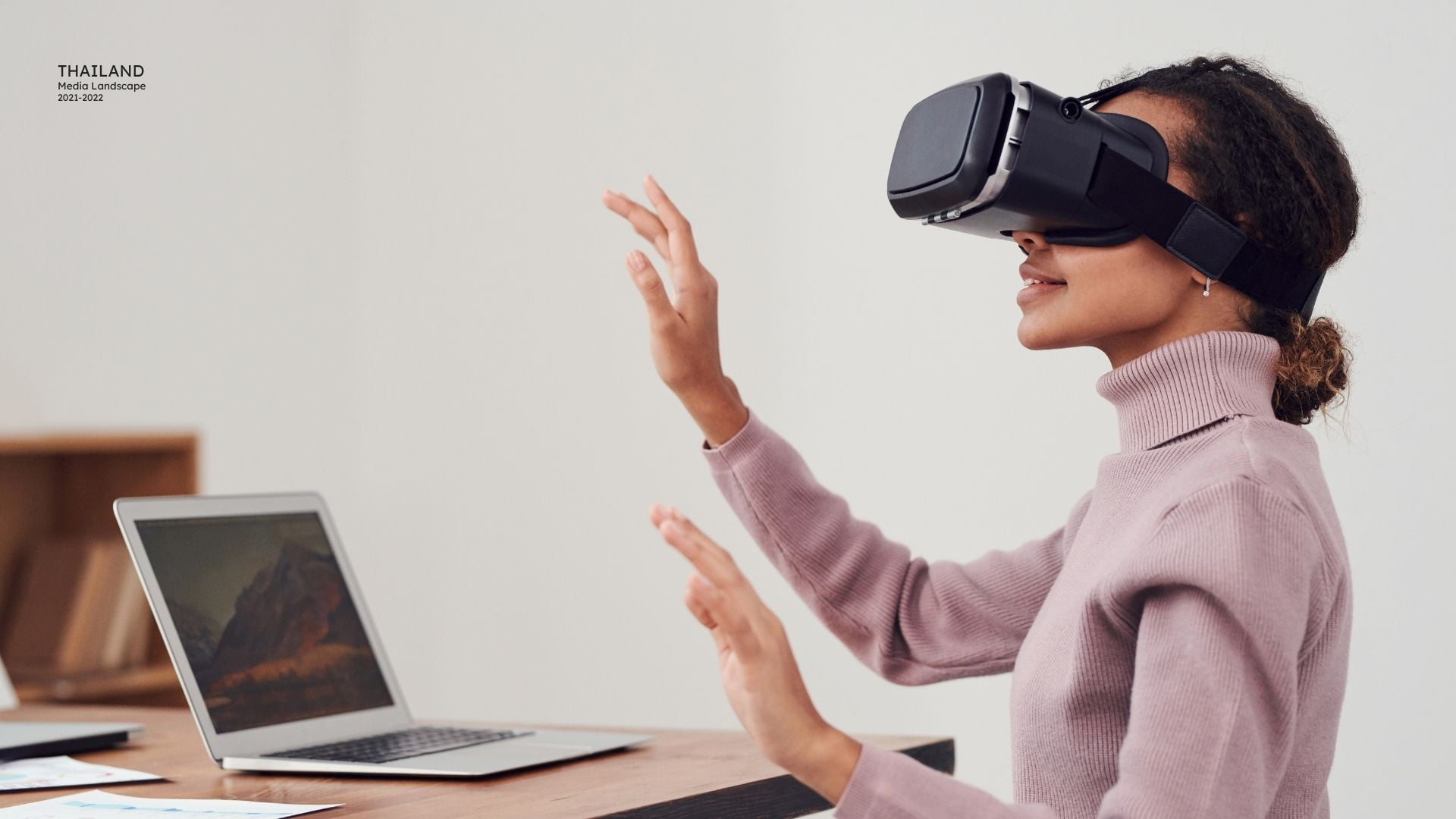 Virtual reality technology is also likely to play a greater role in 2022. Computer-generated virtual influencers who do not really exist are an example of this technology. This further shines the light on the metaverse trend, one of the megatrends of the future that stem from the 5G era, which blends reality with virtual reality.