Thailand Media Landscape 2022 - 2023
Examining Thai Media Landscape and trends post-pandemic
As the COVID-19 pandemic began to subside in 2022, consumers started living their lives to the fullest again and businesses were reinvigorated with many organizing various events after struggling with the pressure of the pandemic. People have made adjustments and have finally become accustomed to the New Normal.
Nevertheless, it is undeniable that the media industry has been struggling to deal with various challenges, from the changes in consumer behaviors and the role of social media algorithms to the fast pace of technological advancements and the intense competition in the industry. The Thailand Media Landscape 2022-2023 report contains compelling data and exclusive interviews with experts in the media industry to provide insights into industry trends, fresh perspectives from professionals and relevant statistics that could be indications of the possibilities and future of Thai media.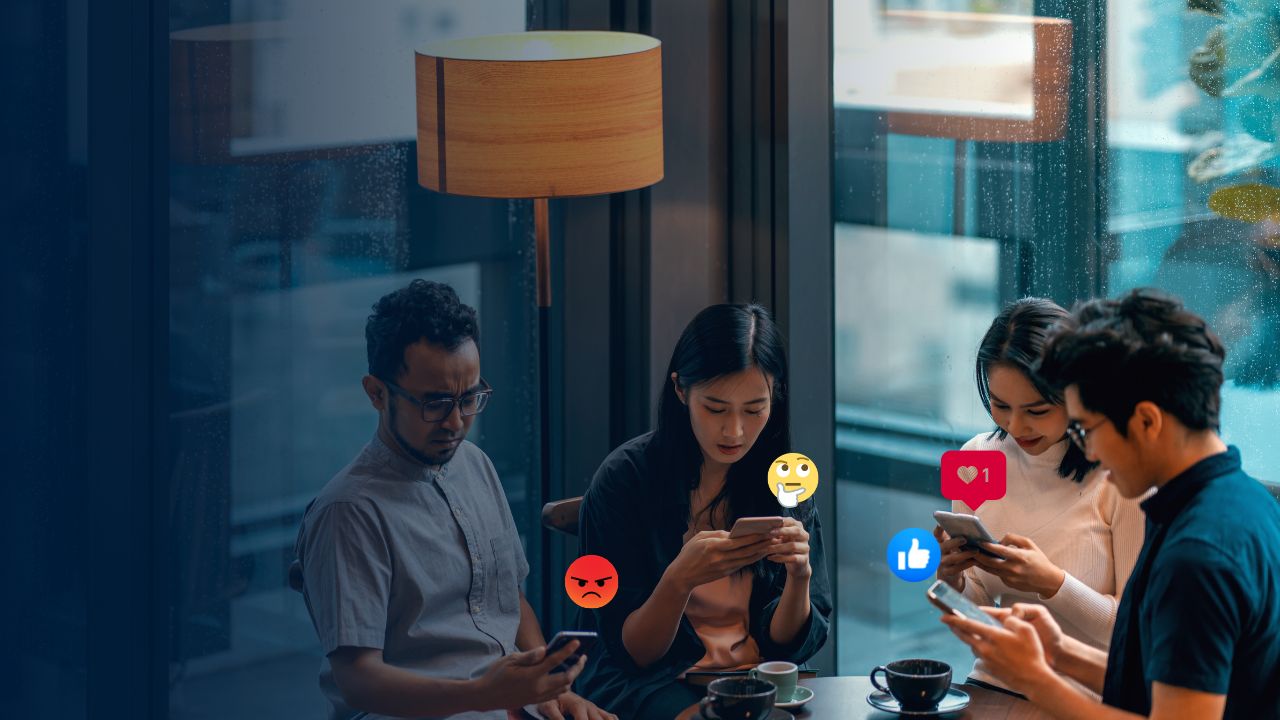 Overview of 2022 Advertising Spending: Digital TV Tops Ad Spending Rankings in 2022
Let's start with the overview of advertising spending in 2022. According to Nielsen, ad spending in the first ten months of 2022 (January –October) amounted to 98.03 billion baht, up 10.48% year-on-year.
Digital TV saw the highest ad revenue during the period at 52.63 billion baht, followed by online media at 22.09 billion baht, while outdoor and transit advertising spending totaled 11.17 billion baht.
Meanwhile, print media continued to rank low in terms of ad revenue, which is a reflection of the behaviors of modern-day consumers. Ad spending on print media in the first ten months of 2022 totaled 2.51 billion baht, down 1.72% year-on-year.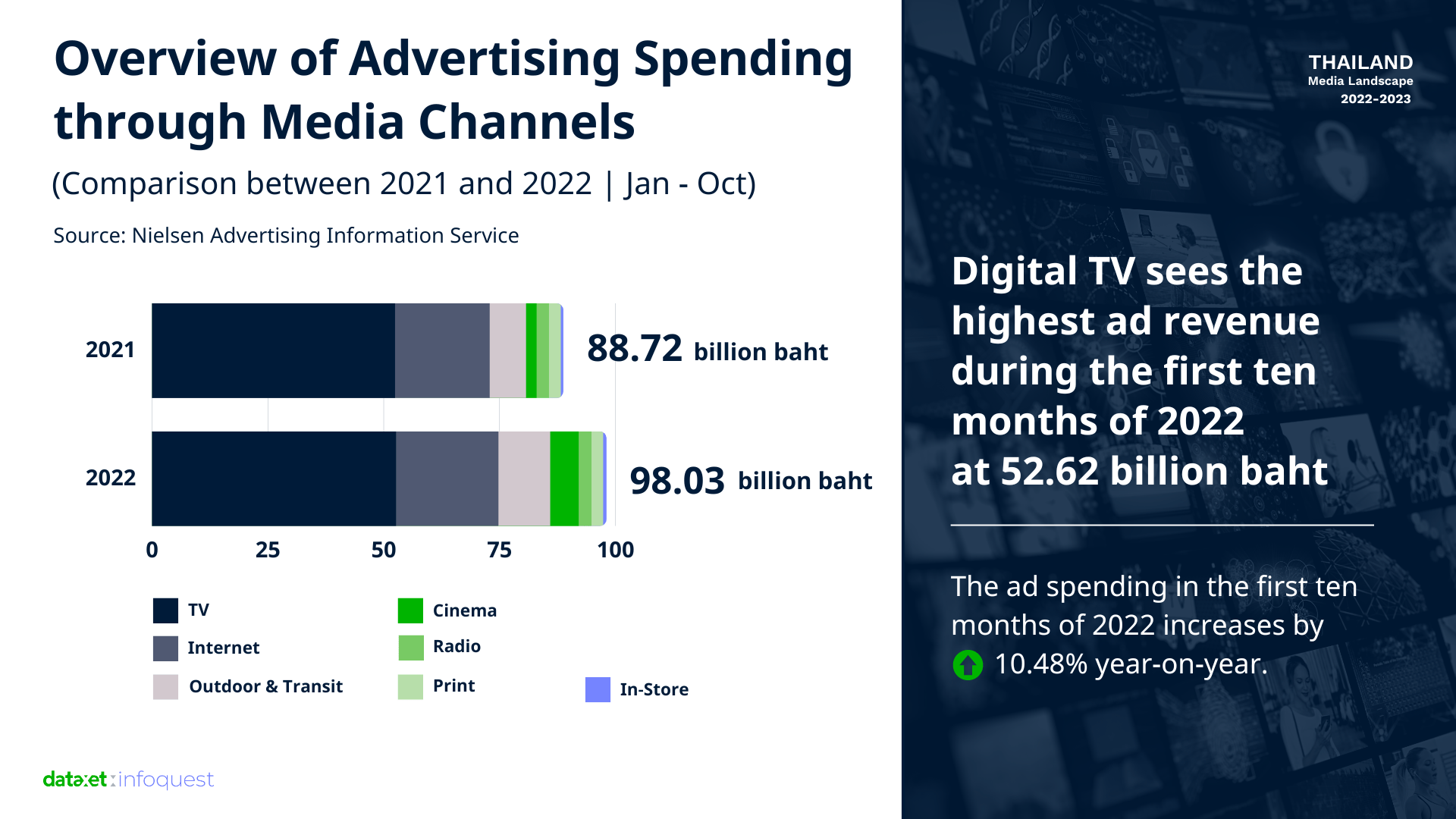 The Rise of "Short-Form Videos"
The most popular form of content marketing in 2022 is none other than short-form videos, as evidenced by the vast variety of short-form contents presented by news agencies and influencers. The rise of short-form videos is driven by the changes in preferences of consumers on social media who read less and prefer watching videos, especially on popular platforms like TikTok.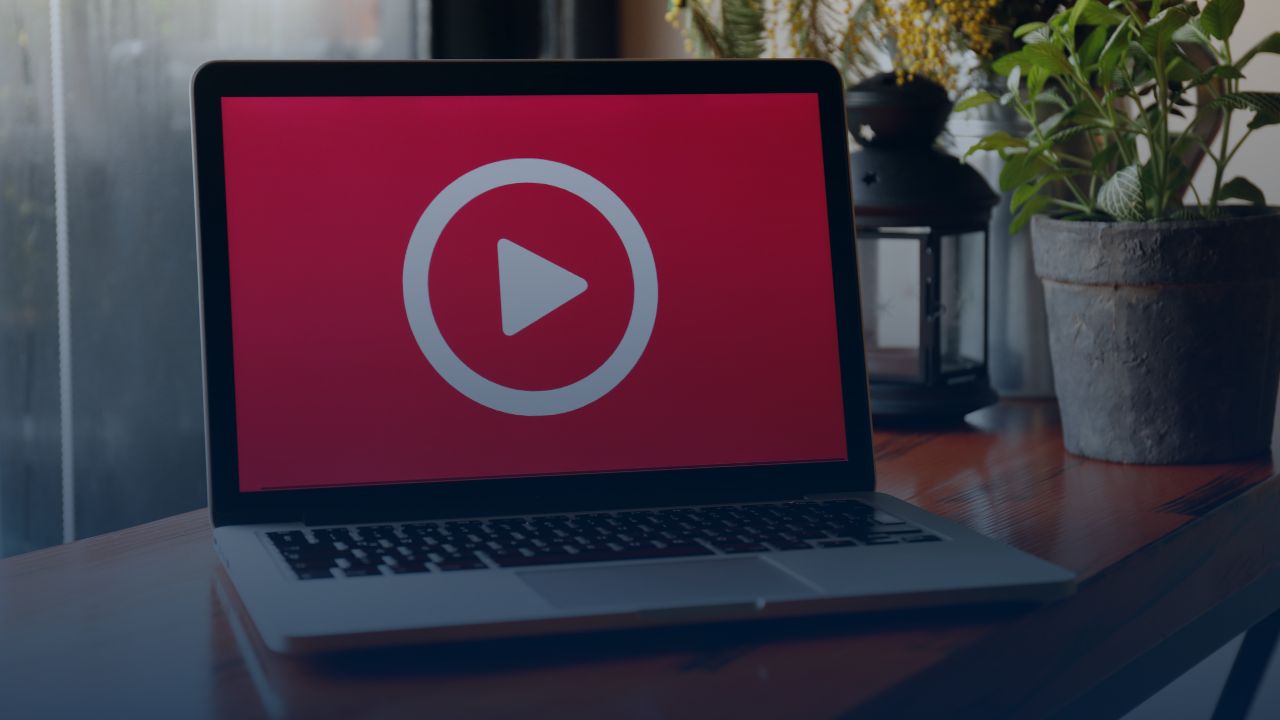 The number of TikTok users in Thailand rose significantly in 2022. Thai TikTok users in the 16–64 age group reached 35 million, accounting for 63.6% of the total number of Internet users in the 16–64 age group in Thailand. Compared to 2021, the number of Thai TikTok users had increased by 24.8% in 2022, and when comparing the user numbers from 2020 to 2022, the number of TikTok users in Thailand had increased drastically in three years.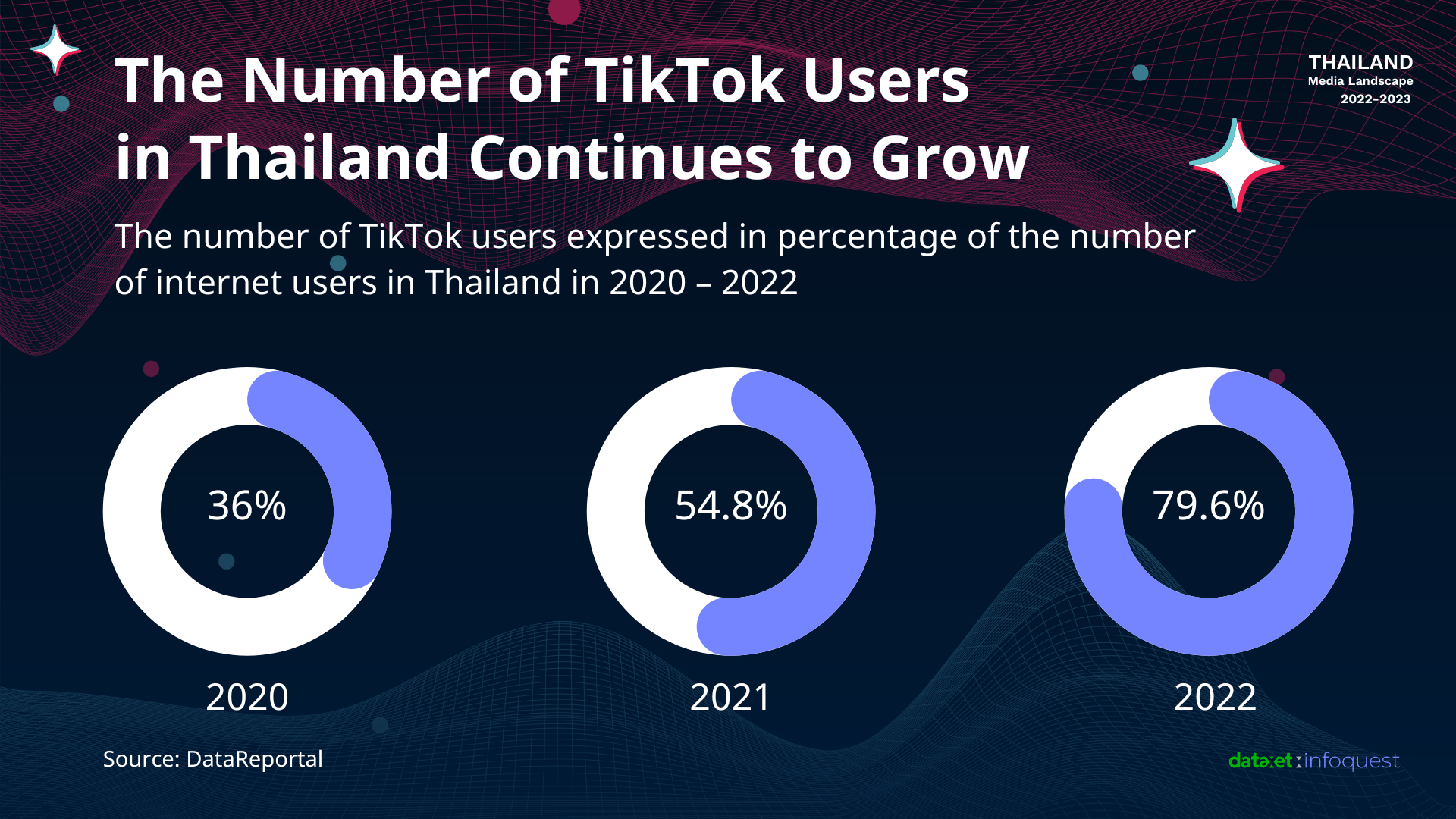 Facebook and LINE throned favorite social media platforms among Thais
In addition to TikTok's growing number of users, data from DataReportal shows that Facebook was the social media most used by Thai internet users in 2022, accounting for 93.3% of total internet users between the ages of 16 and 64. LINE was second with 92.7% share, while Facebook Messenger was third with 84.7%. 
When consumers prefer social media, algorithms of media such as social media play a role in various business sectors, especially with social commerce trends or the use of social media to promote the sale of products or services online that have become an important channel favored by Thai shoppers. Wunderman Thompson said in the "Future Shopper" report that Thailand had the highest proportion of social commerce buyers in the world at 88%.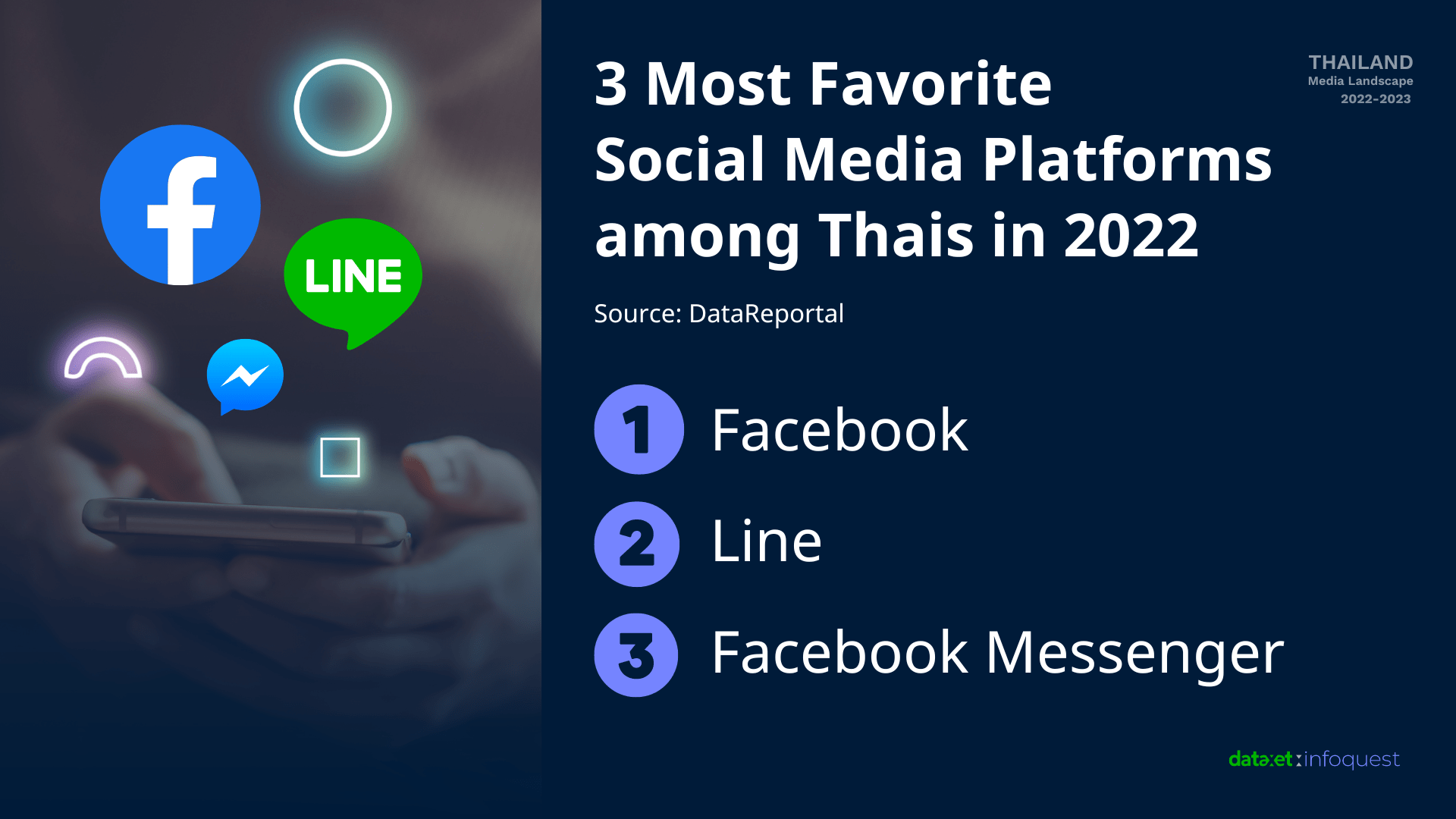 The information is in line with the opinion of Lertad "Tom" Supadhiloke, director of e-commerce at LINE Company (Thailand), who said in an interview with InfoQuest that "When considering the statistical figures, it was found that buying and selling goods on social media in Thailand was the highest in the world. The amount of retail deals concluded on social media was also the highest in the world."
News programs and TV dramas give Digital TV a brighter future
This is reflected by an increase in advertising budgets since August 2022, climbing 9.04% year-on-year. From January to August 2022, advertising spending on digital TV increased by 0.51% year-on-year to 42.419 billion baht. The industry with the highest advertising expenses on digital TV was food and beverage, led by Unilever, which posted an advertising budget of 2.454 billion baht. However, the figure represented a drop of 29% from the same period in 2021.
The reasons behind digital TV's growing advertising earnings and increasing viewership are news programs and dramas. These are deemed the main content that drives ratings and draws in advertisements for digital TV operators. Almost all digital TV channels therefore put emphasis on news programs by revising broadcast programming and incorporating news anchors who can attract the attention of the audience as well as producing popular content such as dramas for entertainment through various stations and platforms, such as Over-the-Top TV (OTT TV) and streaming platforms.
OTT TV benefits from COVID-19: people consume entertainment content at home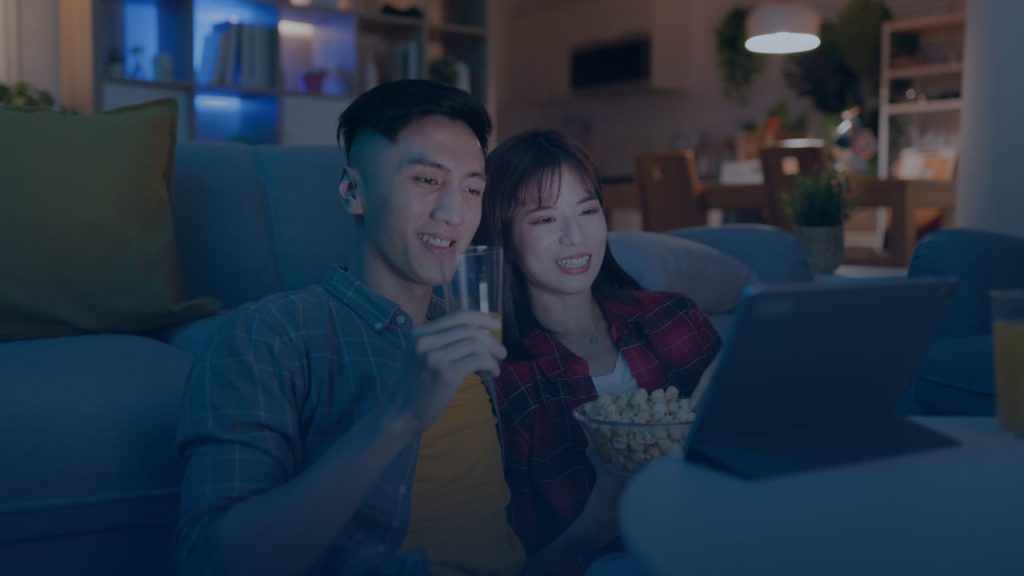 The Over-the-Top TV or OTT TV service business has grown continuously in 2022, especially during the COVID-19 outbreak. According to the latest 'THE FUTURE OF TV 2022' study by The Trade Desk and KANTAR, approximately 26 million Thais have opted for OTT TV platforms and spent 1.4 billion hours on them per month.
In addition, information from the Broadcasting Policy & Research Bureau and the NBTC indicated that Thais' use of OTT TV services in the form of subscription video on demand (SVOD) increased exponentially. In 2021, there were 6.03 million accounts for this form of services, and by the end of 2022, the user base is expected to reach 8.99 million accounts. In 2023, the growth pace may slow down compared to the past 2-3 years due to easing COVID-19 pandemic which allows people to go out and engage in more activities outside their houses.
With accessibility to consumers, influencer marketing shows major potential growth
Influencers have become a great marketing tool to attract consumers via digital channels. According to the Digital Advertising Association (Thailand), the value of advertisements on social media in 2022 rose 7% to 26.62 billion baht. This is in line with Media Intelligence Group's outlooks that listed influencers or Key Opinion Leaders (KOL) as one of the key factors driving digital advertising growth this year. Influencers received the third highest ad spending following Facebook and YouTube, respectively.
Social media remains the popular channel on which influencer marketing thrives. According to the State of Influence in Asia 22/23 report by AnyMind Group, Facebook is the most popular social media platform in Thailand for influencer marketing at 35.3%, followed by Instagram at 24.2%. This is not surprising since more than 50.05 million Thais use Facebook. Thus, with users of Meta's social media platforms, namely Facebook and Instagram, Meta controlled more than 60% the influencer-marketing market.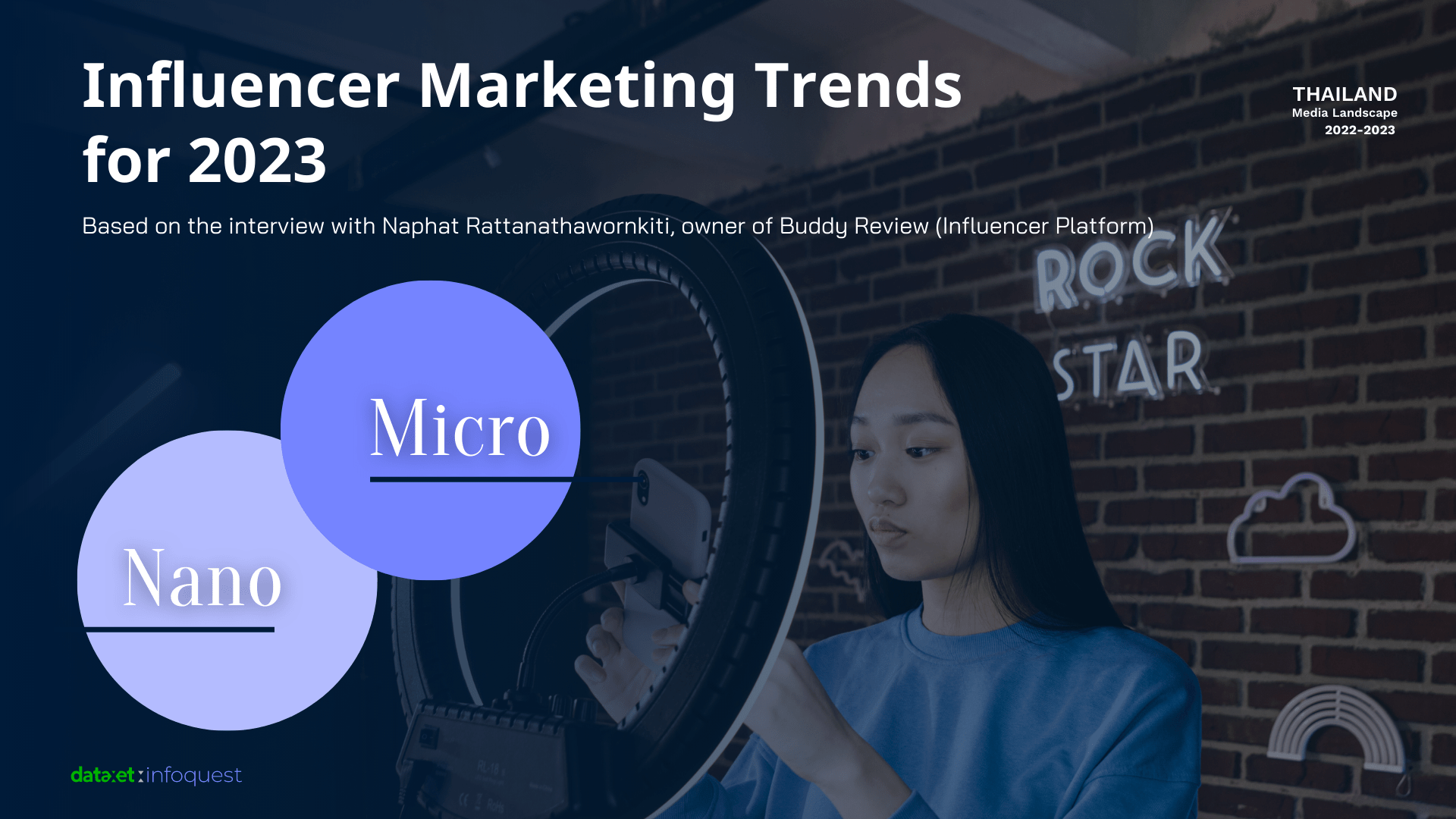 Websites cannot be overlooked
Nevertheless, companies still find websites a reliable tool. Despite the popularity of social media, most consumers think of websites as more credible sources of information. One of the features that set websites apart from social media is search engines. Readers can use keywords to accurately search for the information they are looking for, taking less time to do so than on social media.
Furthermore, with high-quality content, websites can attract greater readership and generate higher revenue which makes them appealing to investors, for instance, Amarin Printing & Publishing's acquisition of Dek-D Interactive, the owner of dek-d.com. 
Newspaper and magazine ad spending declines
The COVID-19 outbreak was certainly a catalyst that prompted readers to switch from print media to digital media as a way to avoid germs that they might come intact with when touching print media or going out of home to buy them. As readers switched to other types of media, print-media ad spending inevitably declined. 
According to AGB Nielsen Thailand, newspaper ad spending in the first 10 months of 2022 declined 2% from the same period of 2021 from 2,049 million baht to 1,998 million baht, while magazine ad spending during that period increased slightly from the same period of 2021 from 502 million baht to 510 million baht. Magazines also recorded the smallest amount of ad spending among all types of media for the second consecutive year with a market share of only 0.62%.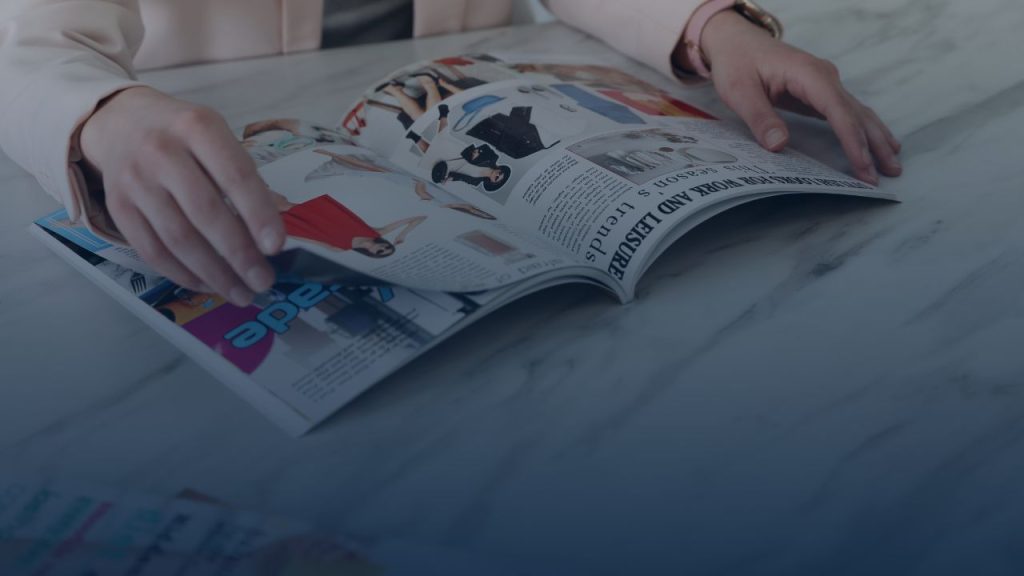 Even though magazine and newspaper ad spending declined, these 2 types of media can still survive as many businesses still rely on magazines and newspapers to create awareness among specific groups of readers or use them as a channel to communicate their marketing campaigns to readers who still like to read content on physical and unique media.
Digital TV and OTT TV also benefited from the fact that consumers spent more time at home during the COVID-19 outbreak. Now that the outbreak situation has improved, filming of series and movies can continue again, which means these 2 types of media are ready to attract consumers who longed for traveling and outdoor activities with new content. Even so, it remains to be seen to what extent they will succeed.
As for influencers, it is undeniable that these individuals help bring colors and drive movements in the business sector, while consumers can use information that they provide in many ways. Therefore, influencers are a type of media with a bright future ahead.
For online and print media, if they continue to offer content of good quality and include social media in their marketing, they will probably continue to survive.