Thailand Media Landscape 2021
Competition and survival in the media industry during the COVID-19 pandemic
The COVID-19 pandemic is a crisis that exacerbates the digital disruption problem that has prompted Thai media to rush to make the necessary adjustments in order to survive and change the way they do business in order to gain revenue.
It has also pushed Thai media to change how they present their content and to differentiate themselves in order to attract the attention of consumers whose media consumption behavior have been reshaped by technology in the age of digital disruption. This has become a great challenge for the media industry in 2021.
Thailand faced the second wave of the COVID-19 outbreak in late 2020. This will inevitably hinder the country's economic recovery in 2021 and could result in a significant decrease in ad spending, which is the major source of revenue for media broadcasters and publishers.
Latest wave of COVID-19 outbreak causes ad spending to shrink 14% in 2020
When looking at the overall advertising spending (data from Nielsen), December 2020 alone saw a 5% decline year-on-year. Meanwhile, the overall ad spend for the whole year of 2020 stood at 106,255 million baht, down 14%.
Television remained the largest in terms of advertising spending with 63,177 million baht of ad revenue, down 10.15%.

Internet advertising spending in 2020 was at the same level as in 2019, amounting to 19,610 million baht, up 0.28%.

Print media advertising spending totaled 3,830 million baht, down 32%.

Radio advertising spending totaled 3,600 million baht, down 24%.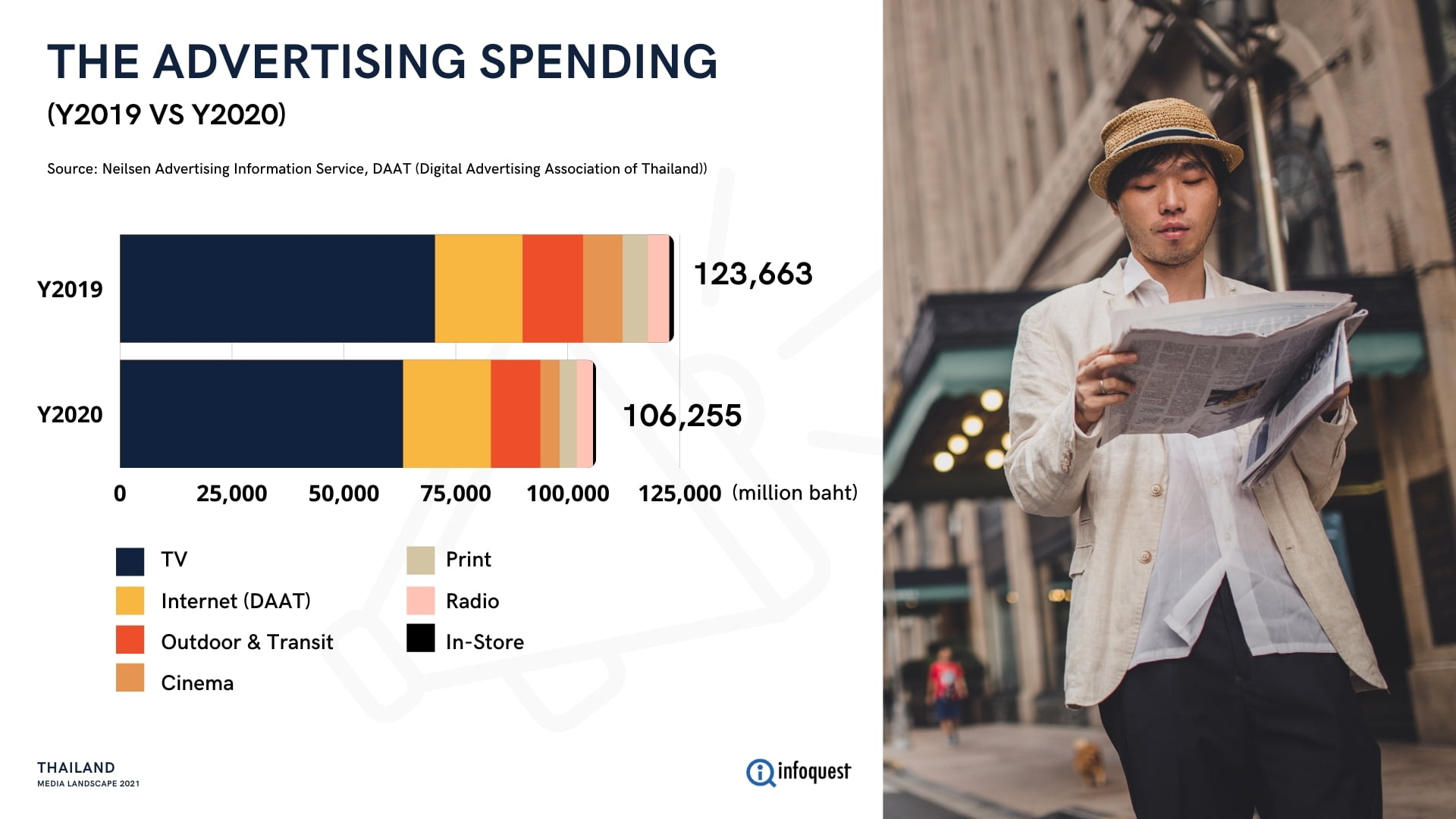 "It's exhausting, but it must go on..."
The year 2020 was a trying year for the newspaper business in Thailand. The old wound brought on by "digital disruption" had not fully healed yet when the COVID-19 pandemic came to deal its blow. This year, traditional media like newspapers will need all the support they can get in order to get through the crisis.
The news about closures of newspapers is a confirmation that, in the current situation, traditional media can no longer operate business the way that they did before. The continued decrease in ad revenue for print media in recent years is indisputable proof that print media business has been on a downward decline. 
It is therefore no surprise that last year we saw many traditional media companies restructured their business and made adjustments such as resizing, adding more channels for presenting their content and becoming full-fledged online media companies in order to better respond to the consumer behaviors in the digital age.
"Adjusting sales strategy — continuing the fight in the digital world"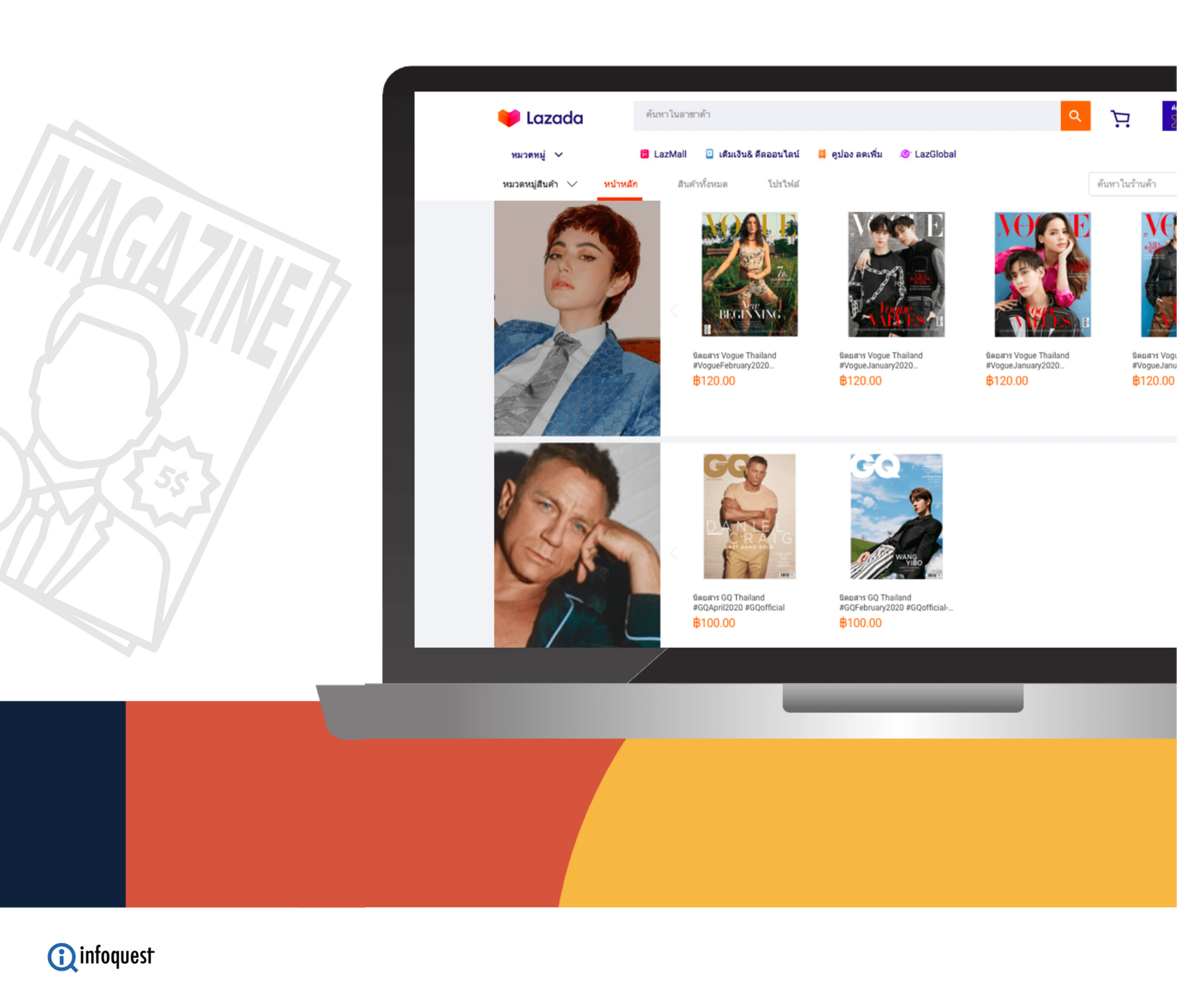 The situation for magazines is very similar to newspapers, especially how they seek ways to present content on other platforms such as websites and social media. It can be said that if they are able to get through hard times, they can continue competing in the digital world.
Although magazine advertising spending continues to decline every year, one thing that publishers do to add value to their magazines is touting exclusive covers featuring "influencers" such as popular movie stars or artists. Certain issues can generate considerable buzz and become a collector's item. 
However, in the past year many magazine publishers and magazine stands have adjusted their sales strategy by launching digital magazines, offering both recent issues and back issues. The strategy helps turn crisis into opportunity in the New Normal era, which has changed the lifestyle of people around the world. 
"Popular online media: good websites can be created at low costs"
Websites remain a popular avenue for almost every type of businesses to share news and information to their target groups. It is an online medium that allows the owners to manage and maintain the content of the website by themselves. The features are different from those of social media. Social media algorithms are mostly controlled by the social media platform. For example, Facebook updates its algorithm regularly, forcing its users to keep adjusting or adapting techniques  in line with the Facebook algorithm in order for the content to have the most impact.

Therefore, websites remain an essential online channel for all types of businesses, including the media industry. Nowadays, The process of building a website is simple and can be done at a low cost. One can design a website without coding knowledge and choose from various templates. There has been a recent surge of new websites launching everyday, especially news and media websites. Highly experienced media professionals have joined hands to launch news websites. Examples of these websites are moneyclub.asia and thisrupt.co.
"Social media is still the most popular network of online communities this year in Thailand"
Thais use social media for a variety of purposes, including to follow the news, to have fun, to sell products and services, and to voice their political stance. Each social media platform has its own advantage and different target groups.
Media groups that have their roots in print media and analog television can use social media platforms like Facebook, Twitter, LINE or even TikTok, to share content disseminated on their primary channel so that they can expand their reach to different demographics.
Another interesting observation to be made from Thai people's use of social media is how they responded to COVID-19 prevention measures that were introduced last year. The measures affected various business sectors, including entertainment. Entertainment businesses were forced to temporarily shut down. Musical acts had to cancel concert tours and live performances. Home isolation, which is part of physical distancing, gave Thais an opportunity to use social media to great effect. Their online activities are as follows:
Live streaming: Artists live streamed concerts after entertainment venues shut down. Live streaming concerts is a perfect solution for fans who were forced to stay home and for the artists struggling to make a living in times of crisis.
Creating new Facebook groups: Many universities launched new "marketplace" Facebook groups to allow students and alumni affected by COVID-19 to trade goods and services.
LINE calling: Thais used LINE Call to contact their friends or initiate group calls while staying home. LINE responded to the increased usage by developing additional features.
TikTok: People who are stuck in their own home discovered a new way to relax by joining TikTok, which has proved to be capable of attracting different consumer groups. TikTok is not just popular in Thailand. Global downloads during lockdown also soared.
Nevertheless, TikTok adjusted its presentation strategy in the second half of 2020 by focusing on three types of content: entertainment, education and news. Experts across different fields started joining TikTok to spread knowledge using short-form videos. Media organizations also started using the platform with an aim to capture a more diverse audience. Therefore, TikTok is probably not just a platform for making viral content and entertainment, but it is also a platform that offers knowledge in many fields and serves as a channel for news and information.
Clubhouse is a new social-media platform that took off with a bang in early 2021. It is an audio-only app that allows users to create a chatroom and invite other people to join and exchange ideas about various topics. Not only can members of each chatroom listen to people they are interested in, but they can also share their stories and join others as speakers.
Influencers in various circles both in Thailand and abroad have created chatrooms to bring people with the same interests together to listen to and to share information, leading to a rapid growth in popularity for Clubhouse.
Nevertheless, Clubhouse is currently only available on iOS devices (as of February 24, 2021). The app continues to garner a lot of attention and it remains to be seen what the traffic will be like, in Thailand and worldwide, once it is also available on Android.
"Their roles remain strong both in the aspect of social deeds and as a marketing tool"
Social media influencers are a type of media personalities that Thais like to follow. YouTube is the most popular platform among influencers, followed by Instagram, Facebook and Twitter. Meanwhile, TikTok is a thriving platform that gained a lot of attention from influencers last year.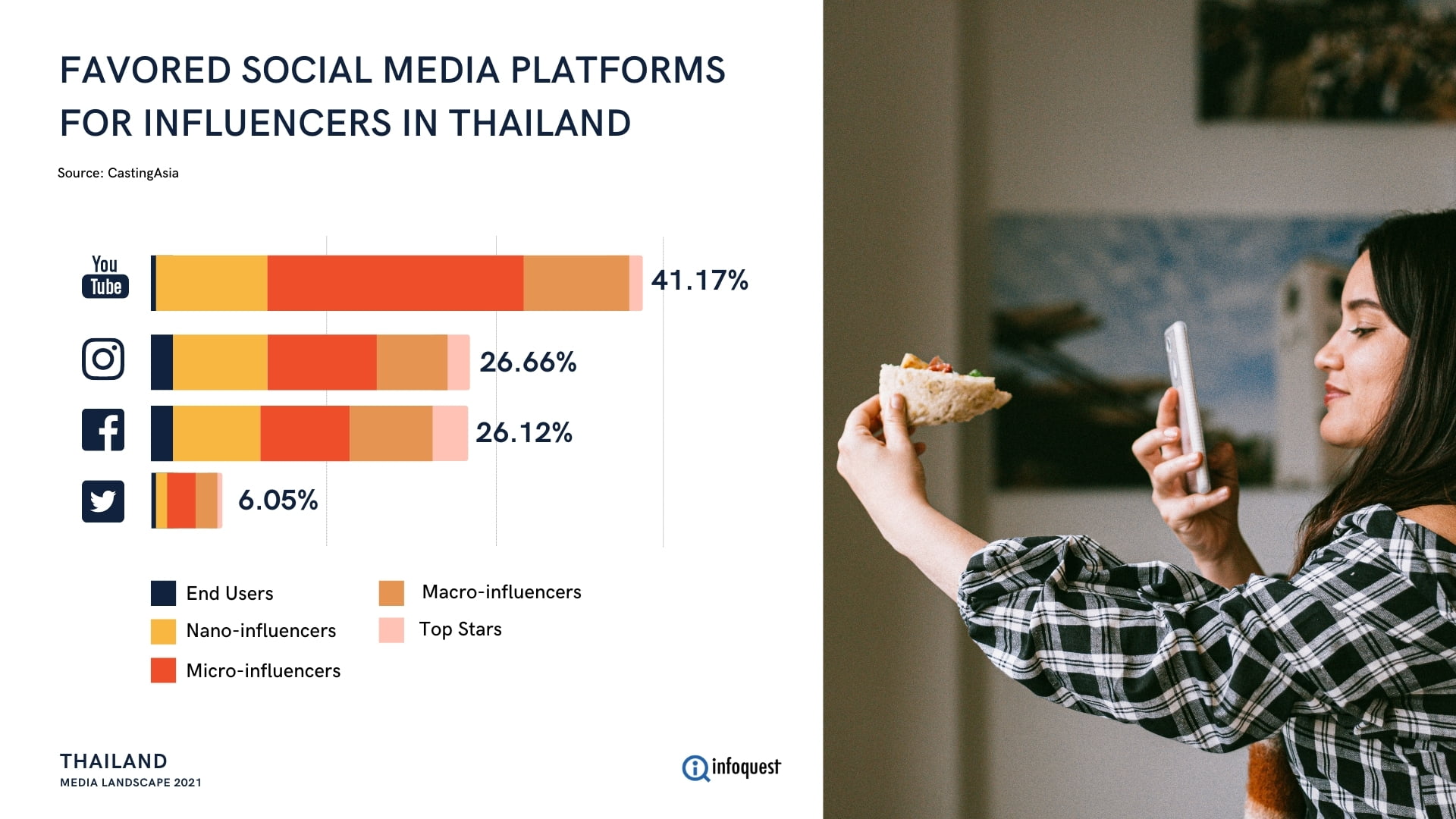 Influencers have been hit hard by the COVID-19 outbreak, with travel influencers suffering the hardest blow. The outbreak has forced them to adjust their content and its presentation to suit the lockdown. Even so, influencers are still chosen by brands, businesses and organizations to carry out digital marketing.
Influencers were frequently utilized over the past year. They were used to promote social causes, promote social distancing and spread knowledge about COVID-19 prevention. They were also used as a key marketing tool.
"News programs see signs of recovery, entertainment channels struggling to compete with streaming services"
In 2021, digital TV news providers are one of the media formats everyone should keep their eyes on since they are expected to enjoy considerable attention thanks to the New Normal lifestyle. More people are spending more time at home and those people are expected to receive their news from digital TV. The average view duration  of digital TV news programs rose to around 2 hours and 6 minutes between March and May in 2020, according to the digital TV news data. Therefore, the providers are likely to benefit from an increase in advertising spending and head towards recovery after suffering the adverse impact of the recall of their digital TV licenses and competition with the social media news outlets.
As for digital TV entertainment content providers, their competition with the OTT providers, both domestic and abroad alike (i.e. Netflix and VIU), remains a challenge. Many digital TV operators have sought income by other measures from creating their own content for a streaming platform to selling licensing rights of their TV series to other content providers overseas. They also ran promotional campaigns such as meet-and-greet events with popular actors and celebrities. To cut expenses many had undergone organizational restructuring and laying off employees.
"Lockdown drives up OTT TV growth"
The growth momentum of over-the-top TV, or commonly known as video streaming services such as Netflix, Iflix and Youtube, continued in 2020. Ovum forecasts overall revenue of OTT TV operators providing SVOD in Thailand would reach 100 million dollars in 2020, and it could leap to 181 million dollars by 2024.
The number of OTT TV subscribers in Thailand, both SLIN and SVOD, was expected to increase approximately 200,000 from 1.33 million in 2019 to 1.52 million in 2020. The figure could soar further to 2.45 million in 2024, seven times higher than the number of OTT TV users in 2015. The growth pattern is in line with the growing number of OTT TV users globally. Also, video-on-demand service is favored by OTT TV subscribers in Thailand because it allows more flexible access to videos compared to live streaming.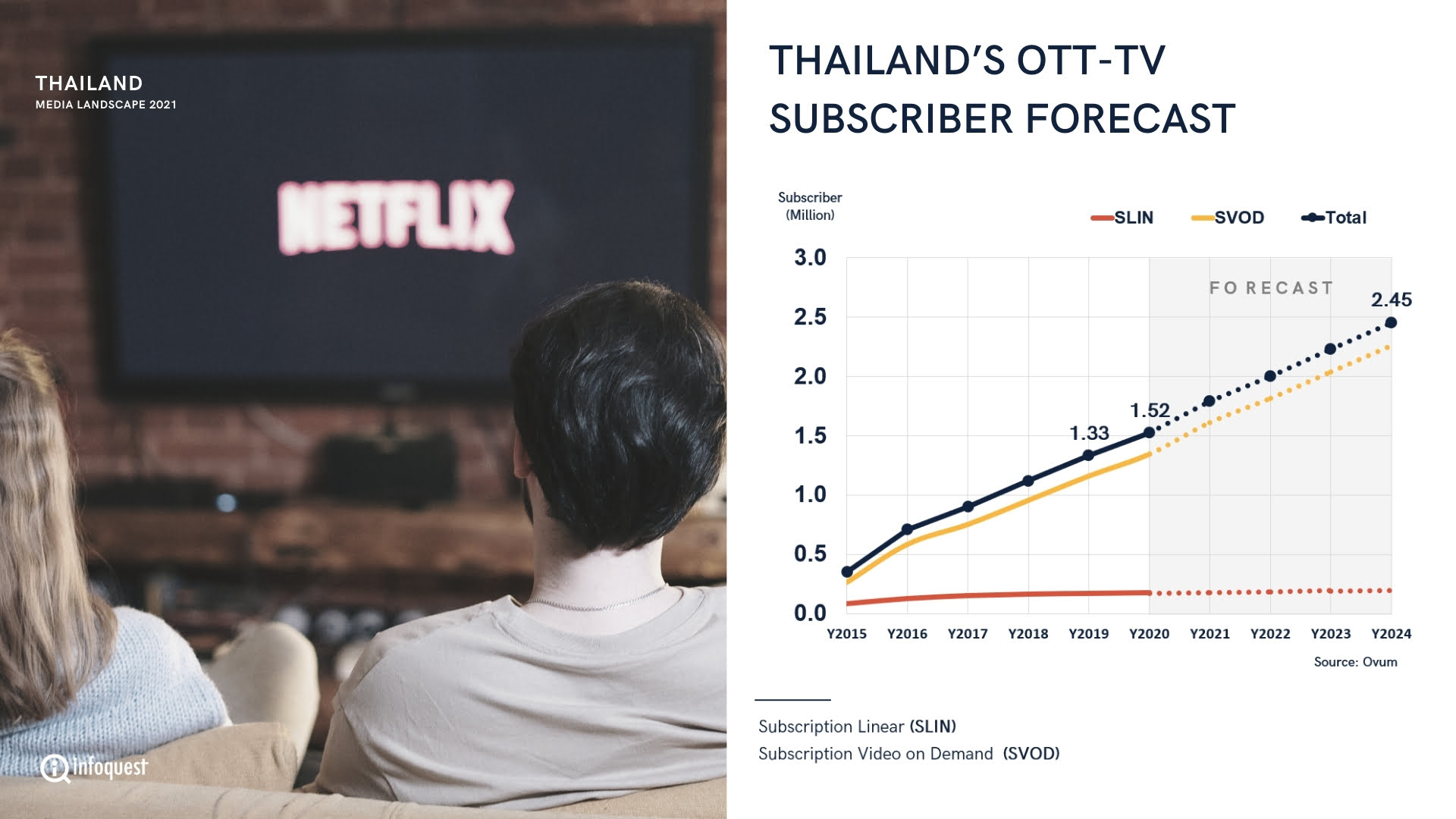 "Diversifying channels to generate income in a bid to survive the storm"
Ever since music streaming platforms gained popularity and swooped up the listenership from radio, radio stations had to adjust in order to sustain revenue over the past several years. In 2020, the strategy radio stations used to generate revenue was still the same strategy used in previous years — branching out to other channels to generate income and not rely solely on radio advertising.
"Work from Home drives up radio listenership, while overall ad spending declines"
Radio has benefited from the COVID-19 outbreak as many companies and organizations encouraged their employees to work from home and thus time spent at home increased. According to a report by the National Broadcasting and Telecommunications Commission (NBTC), the radio listenership of 40 main radio stations on the FM frequencies (87.5 MHz–107.0 MHz) increased in Bangkok and its vicinity across receiving devices such as radio, mobile phones, tablets and computers. However, advertising revenue dropped.
Other media platforms have also faced the same situation since the COVID-19 pandemic dealt a blow to nearly all businesses across segments, especially food and beverage businesses and sales of certain personal care products, cosmetics, automobiles and tourism. They are the key advertising spenders.


Thailand Media Landscape 2021
Press download for the overview report